Looking to spend 2 days in Florence? This splendid city on the banks of the Arno River is often referred to as the cultural capital of Italy. 
This is where you'll find streets lined with magnificent Renaissance buildings and incredible works of art by masters such as Michelangelo and Leonardo da Vinci. Indeed, signs of Florence's historic affluence and power can be seen everywhere.
Ready to travel again? Don't go without travel insurance.
I recommend SafetyWing Nomad Insurance. I've been using it since 2019 and I can assure you it's the perfect solution for nomads like you and me.
Surrounded by the picturesque countryside of Tuscany, the city holds many other attractions for its visitors. The food is incredible – from delicious gelato to Bistecca alla Fiorentina (Florentine Beefsteak).
There are also several lively markets selling handmade goods where you can experience an authentic taste of local life.
If you are visiting for a weekend then you may be wondering just what to do in Florence in 2 days. Will you have enough time to see the best of its attractions?
The good news is that you certainly will – and this itinerary for two days in Florence will make planning your trip a lot easier! 
We've suggested just where to go on each day of your visit so you get to see the city's main highlights. We've also shared our recommendations for some of the best places to stay.
Day 1
On the first of your 2 days in Florence, you will see the world's most famous statue and the city's stunning cathedral. You'll also spend some time at one of Florence's most popular markets and see more of its captivating historic buildings.
Morning
Start your day nice and early with breakfast at Vecchio Forno on Via Guelfa. Open from 7.30 am, this delightful bakery serves the very best croissants and pastries in the city.
You may have to wait for a table but the food is worth it!
It's now time to start the sightseeing and your first stop – just a few minutes away – is Galleria dell'Accademia.
This gallery and museum contain lots of important works, including Botticelli's 'Madonna and Child' and 'Madonna of the Sea', along with Giambologna's Rape of the Sabines. 
Founded in 1563, it also contains medieval religious prints, paintings by local artists, and pieces created by students of the Academy. Don't miss the Museum of Musical Instruments, which contains exhibits made by the famous violin maker Antonius Stradivarius.
The highlight, though, is Michelangelo's 'David' – the most famous statue in the world. Because of its importance, Galleria dell'Accademia is the 2nd most visited museum in Florence. Consider buying a Priority Entrance ticket online to jump the very long queues!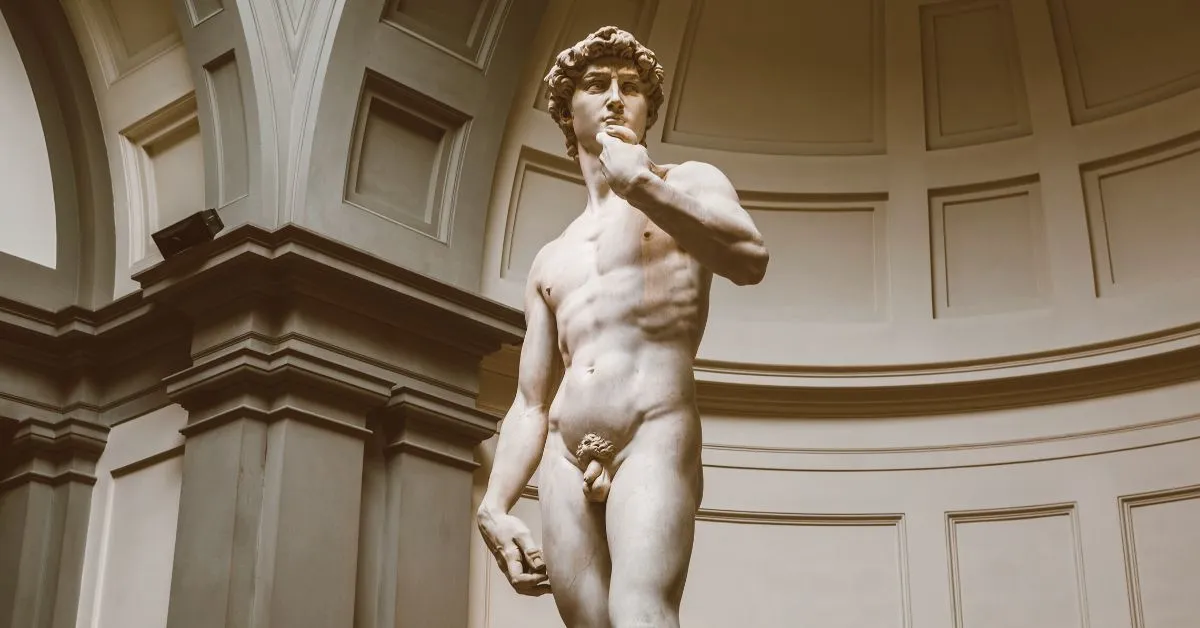 Next, it's time to see the Cathedral of Santa Maria del Fiore – more commonly known as the Duomo. 
This is the most famous landmark in the city and pretty spectacular from the outside, with its striking Gothic exterior covered with colored marble.
The inside isn't quite as breathtaking but still has some lovely frescoes, along with a clock dating back to the 15th century that still works today!
The main part of the cathedral is free to enter but the building has some extra attractions for which you'll need a ticket.
Before visiting those, take a break and head to the Mercato San Lorenzo, just a few minutes away. 
This market is open daily (except Sundays) and has two parts – an outdoor leather market where you'll find some great souvenirs, and an indoor food market. This makes an excellent place to rest your legs and grab some of the local delicacies for lunch! 
Afternoon
After lunch, head back towards the Piazza del Duomo to see Brunelleschi's Dome and the cathedral's 14th-century bell tower, Giotto's Campanile. Wrapped in marble, it is considered to be one of the most beautiful spires in Italy.
Both of these attractions need tickets and both contain steps that allow you to climb to the top. When seeing Florence in 2 days it makes sense to pick just one, so I would pick the Dome.
You'll get great views from either, but climbing the Dome gives you the chance to see Giorgio Vasari's frescoes of the Last Judgment up close.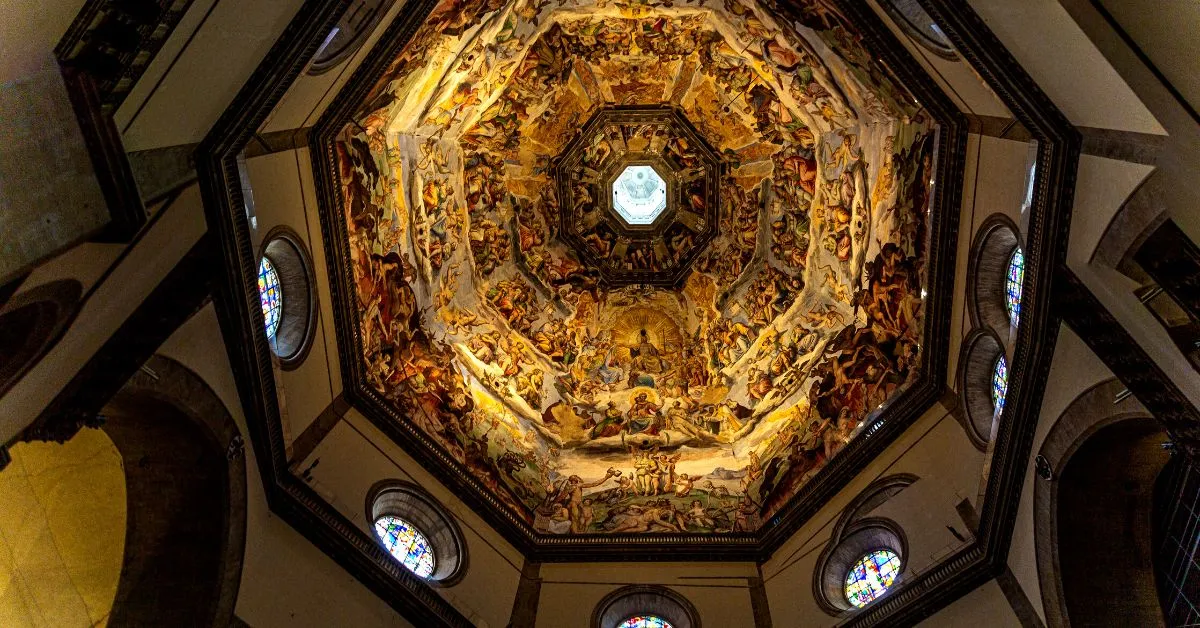 Another 'must see' is the Baptistery of St. John. Dating back to the middle of the 12th century, this attraction is famous for its incredible bronze doors and the beautiful mosaics that line the interior of its octagonal tower.
From there it's just a short walk to a church which is considered by many to be the best in Florence! 
The Basilica of Santa Croce on the Piazza di Santa Croce houses the tombs of Michelangelo and Galileo. It has a beautiful neo-Gothic exterior and inside you can see stunning frescoes, a marble pulpit, and sculptures by Donatello.
The stained glass windows are breathtakingly beautiful and fill the entire church with light.
A ticket to enter the church also gives you admission to the rest of the complex, including the Pazzi Chapel, cloisters, and museums. Because this is one of the quieter attractions in Florence, it's a good one to head to if the queues elsewhere are long!
Evening
For a memory of Florence you will never forget, take a romantic stroll across the iconic Ponte Vecchio when the sun goes down.
The original bridge dated back to 1218 but was destroyed in a flood. It was rebuilt in 1345, and this is the bridge you see today. 
During the day it is bustling with people shopping at the jewelry stores that line it but at night it is popular with couples, who hang locks on the fence around the statue of Benvenuto Cellini and then throw the keys into the river. This is meant to symbolize everlasting love!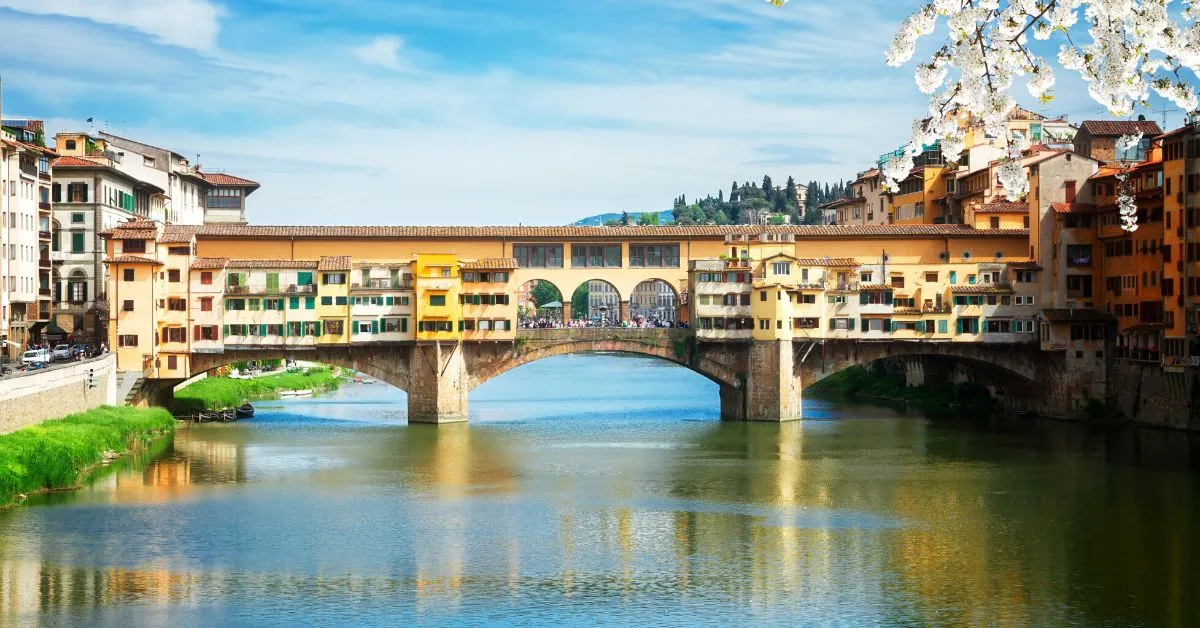 ---
---
Day 2
On the second of your two days in Florence you'll admire the city from a new perspective before viewing more incredible art, indulging in a little shopping, and visiting the palace and gardens in the Oltrarno district.
Morning
Taking in the views from Piazzale Michelangelo is a lovely way to start your second day in Florence.
Located on a hill on the south bank of the Arno River, this is the city's most famous square. You can reach it by bus, or – better still – you can walk there.
It's a demanding uphill climb but there are some nice sights on the way up, including a rose garden and the Porta San Niccolò (a high watchtower).
The view from the top is amazing – after all, Florence has a very unique skyline thanks to the law that forbade constructions higher than the base of the Duomo's cupola. This spot can get very crowded, though.
So if you'd like a more tranquil viewpoint, climb up the hill for another 5 minutes until you reach San Miniato al Monte.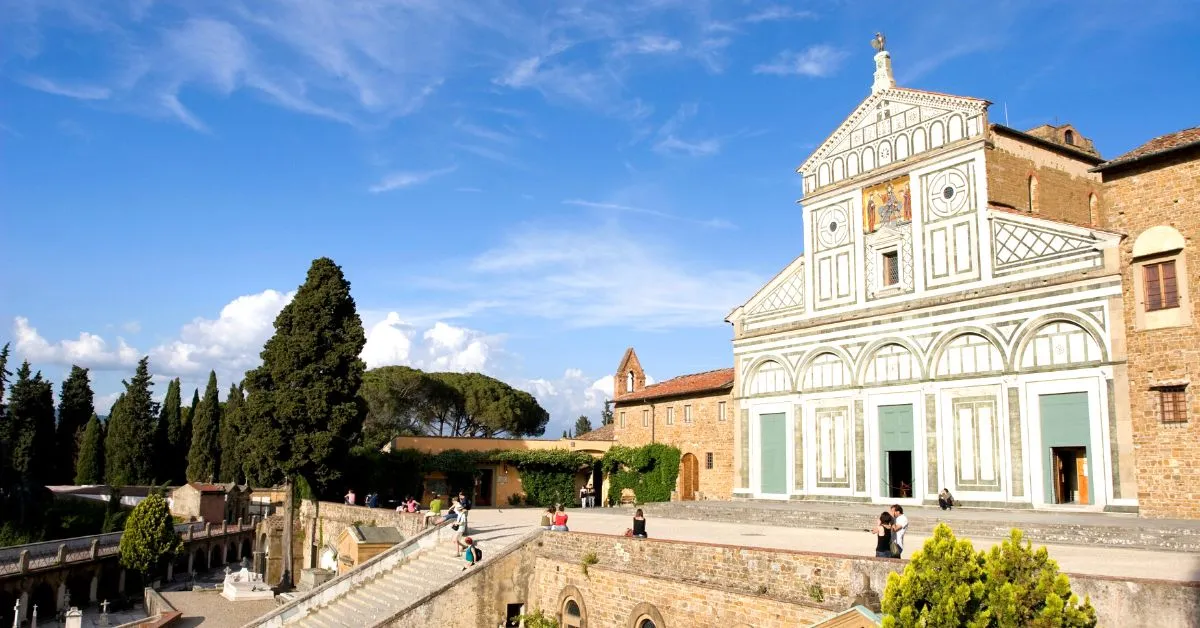 After breakfast at one of the cafes on Piazzale Michelangelo, head down the hill and across the river to the Uffizzi Gallery.
Considered equal in terms of importance to the Louvre in Paris, this impressive art museum houses some of the world's most important masterpieces.
These include works by Leonardo da Vinci, Michelangelo, Botticelli, Caravaggio, and Raffaelo.
There is so much to see here that you could spend the best part of a day, but it's possible to see the most important exhibits in a few hours.
To complete your morning, walk for a few minutes to Piazza della Repubblica. Once home to the city's Roman Forum, it is now a lively piazza packed with restaurants, shops, and an elegant carousel.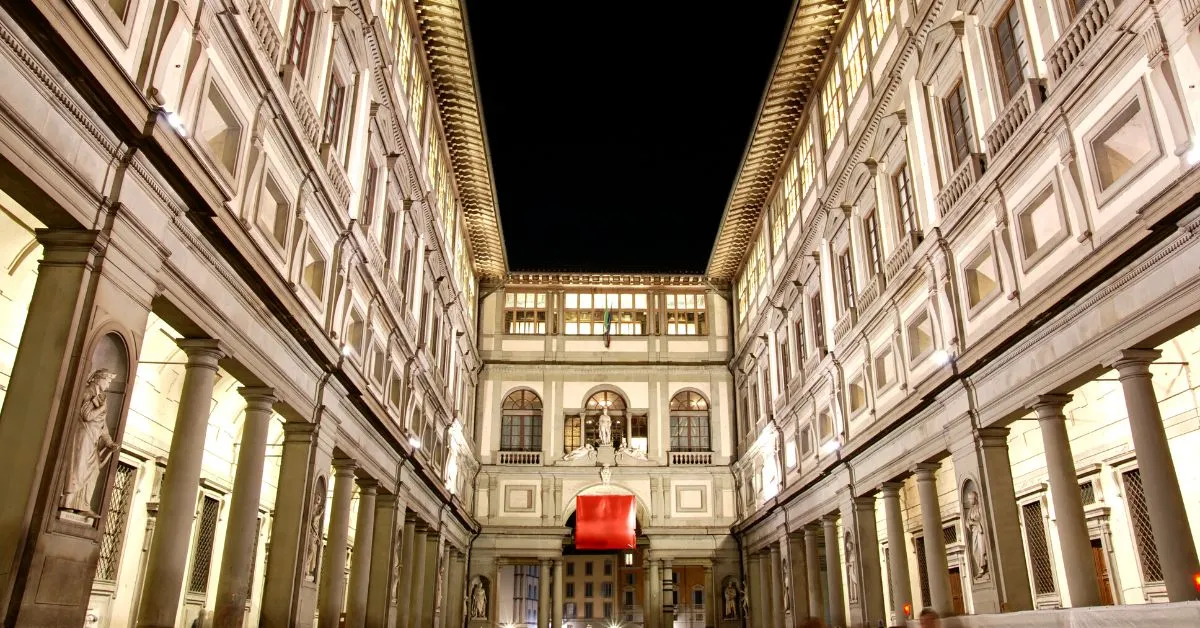 Afternoon
After enjoying lunch on the square, take a walk along Via Calimala until you reach the Fontana del Porcellino. You'll have an opportunity to do some shopping on the way, as this route is lined with up-market boutiques and stores selling designer gear.
When you arrive at the fountain you'll see the large bronze boar that gives it its name. There is a legend that rubbing the boar's nose guarantees you will return to Florence one day.
So – as you can imagine – the nose is pretty shiny!
If you feel like you've seen this boar somewhere before, you'd be right. It has appeared in two Harry Potter films and the 2001 film Hannibal.
A 10-minute walk across the river via Ponte Vecchio will take you to the imposing Palazzo Pitti. This palace has hosted many illustrious guests in its history, including the Grand Dukes of Tuscany and the Medici family.
It is fascinating to explore, with many of its rooms filled with exquisite works of art. You can also view its Royal Apartments, or see how the clothing in the palace evolved over time in the Galleria del Costume.
Your last stop is at the Boboli Gardens, immediately behind the palace. Designed by the Medici family, they are quite beautiful, filled with mature oaks, decorative fountains, and elegant sculptures.
Be sure to visit the Porcelain museum – admission is included with your ticket.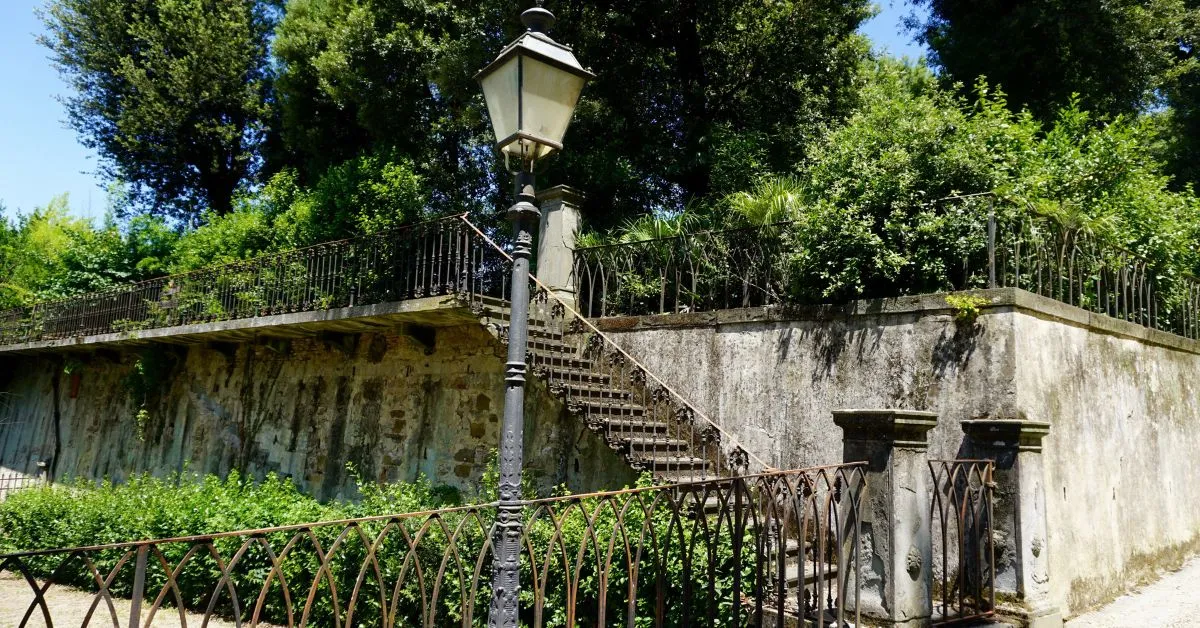 Evening
Spend the final evening of your weekend in Florence at Piazza Santo Spirito.
This is one of the most vibrant neighborhoods in the city, attracting an interesting mix of students, intellectuals, and artisans.
It is a great place to people-watch and lots of fun to visit when the sun goes down, packed with restaurants and clubs.
Be sure to stop by the Golden View Open Bar where you can enjoy dinner, live music, and a great view of the city.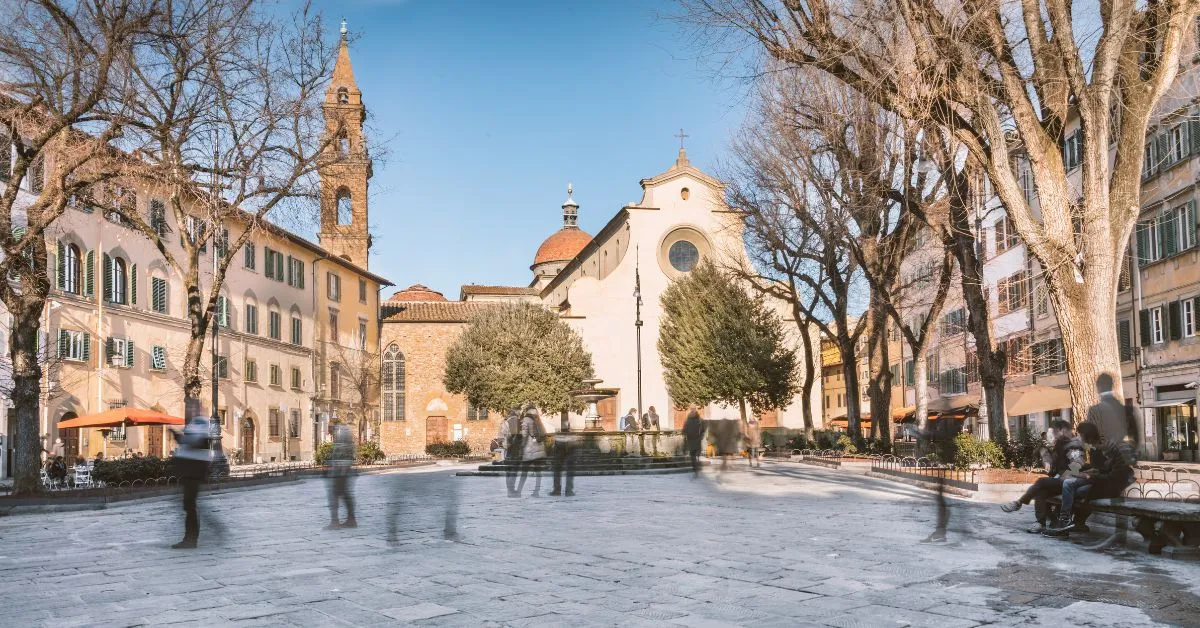 Are 2 Days In Florence Enough?     
As you can see from this itinerary, it's easy to see the best of Florence in 2 days as everything is within easy walking distance.
However, consider adding an extra night if you arrive in the city late on your first day or have an early departure time. You really need 2 full days to appreciate the best that Florence has to offer.
Where To Stay In Florence
Here are some of our favorite places to stay in Florence, with a suggestion to suit every budget!
Best Budget Accommodation
Plus Florence has a great location just 0.6 miles (1 km) from Santa Maria del Fiore Cathedral and 12 minutes from the Uffizi Gallery.
The air-conditioned rooms and dormitories have flat-screen TVs, lockers, and private bathrooms, and there is a shared fitness area. A full English buffet breakfast is available and there is a restaurant serving pizza and other Italian dishes at dinner.
Best Mid-Range Accommodation
Just 550 yards from Ponte Vecchio, FuordArno Bed and Breakfast offers a selection of rooms and suites, including family accommodation.
Coffee and snacks are available throughout the day and the rooms are spacious and beautifully decorated. A delicious breakfast is included.
Best Luxury Accommodation
If you want to pamper yourself during your weekend in Florence, stay at the exquisite Market Urban Hotel.
Just a 10-minute walk from Florence cathedral, this elegant boutique hotel has a selection of rooms and a 1-bed apartment, all decorated in a stunning contemporary style. A generous buffet breakfast is served every day.
Final Thoughts On This Itinerary For Two Days In Florence
I hope that this itinerary for 2 days in Florence has made it easy to plan your visit. Rich in culture and history, Florence is one of those cities that everyone should visit at least once in their lives!
Visiting Italy soon? Read one of the following guides: