Former Olympic swimmer Lisa Curry has scattered the ashes of her late daughter, Jaimi Curry in the "closest place to heaven" she could get.
Posting to Instagram, Curry, 60, revealed that she trekked the highest peak in Australia for the moment, calling it "the hardest thing" she's ever done.
Jaimi sadly died in September 2020, after a long battle with an eating disorder. She was just 33.
Sharing a gallery of photos from the snowy hike, Curry wrote, "I needed something to help me find focus again and get out of bed, but my main purpose was to take my daughter's ashes to the top of Mt Kosciusko."
READ MORE: Ricky Gervais calls out James Corden for ripping off joke
READ MORE: Tom Brady opens up about his divorce from Gisele Bündchen
She continued: "I booked this trip to hike with my friend Glenn Azar. Covid delayed the trip several times but we finally hiked last weekend.
"I can honestly say it was the hardest thing I've ever done. My beautiful friend Christine didn't leave my side which I was very grateful for. The water is my comfort zone, not mountains."
Curry revealed that she and her group of friends faced strong winds, of 60 to 100 kilometres per hour, as well as snow, ice, rain and sleet.
Curry, who has two other adult children, Morgan, 30, and Jett, 28, revealed that she was on beta blockers the entire time due to her atrial fibrillation (also known as AF), which is an irregular heart arrhythmia that can trigger blood clots and heart failure.
For a daily dose of 9Honey, subscribe to our newsletter here
"My heart rate was high, but the medication works to keep it down," she explained. "It feels like a full body of heavy lactic acid."
Curry said that at their last hill, she felt an "overwhelming sense of achievement".
"An overwhelming sense of achievement and emotional anxiety with what I was about to do. The wind was extreme, and took the balloon [carrying Jaimi's ashes] quickly, but it landed on the snow not far away, so Glenn went and picked it up and let it go again."
She ended her post with a tribute to her daughter.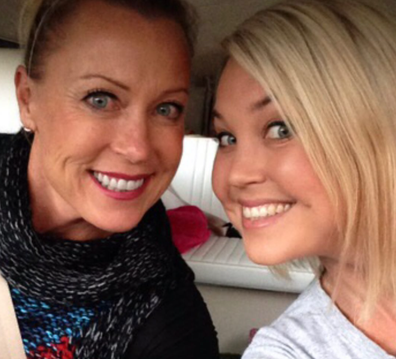 READ MORE: Kyle Sandilands reveals ex's fateful words on eve of wedding
"I honour our Jaimi by taking her ashes and dried petals from her funeral to amazing places around the country and the world. This spot on top of Mt Kosciusko is the closest to heaven that I could get so it was very meaningful to me.
"Everyone has their own way of honouring those that are special to them.Fly free beautiful angel ❄️👼❄️ Never forgotten. xxx."
If you or someone you know needs support relating to eating disorders, please call The Butterfly Foundation on 1800 33 4673 or visit butterfly.org.au. In an emergency, call 000.