Drew Barrymore has jumped to her former co-star's defense, even after he delivered a very public beating of her singing abilities.
On a recent episode of The Drew Barrymore Show, co-host Ross Matthews revealed what Hugh Grant, Barrymore's co-star in Music and Lyrics, said about her singing abilities in an interview with Wired.
Though he admitted that they had both been autotuned, Grant, 62, said in the interview, "I've heard dogs bark better than [Barrymore] sings," which made the audience and Barrymore, 48, herself erupt in laughter.
Watch the video above.
READ MORE: Why Kylie Minogue 'may well regret' coronation decision
"If you know Hugh, that is his way of loving you," she said, before referring to his viral interview earlier this week on the Oscars champagne carpet with model Ashley Graham.
"People are like, 'Oh, he's such a curmudgeon and she's so thrown.' I'm like, no, that is Hugh Grant. You think you're getting this charming movie star and what you really get is grumpy Hugh. And then you fall in love with grumpy Hugh," she said.
"When he says that, I'm telling you, he is being absolutely funny. He doesn't mean one negative thing about it. The person that Ashley Graham met on that carpet is the real Hugh."
READ MORE: The Wire, John Wick star dies 'suddenly'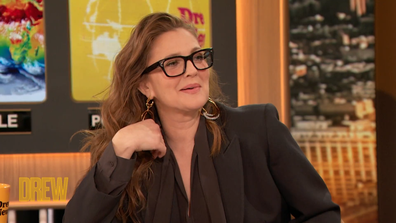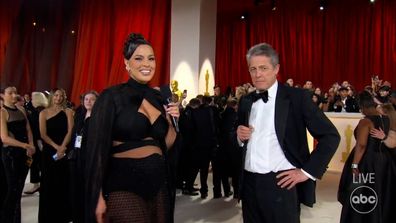 READ MORE: Aussie scientists claim evidence of disputed theory about brothers
Grant made headlines this week for his seemingly less-than-friendly interaction with Graham while doing a routine interview on the champagne carpet.
When she asked him if he was rooting for anyone to win, he curtly said, "No one in particular." When she tried to shake it off and moved on to asking who he was wearing, he simply said it was the work of his tailor.
Social media erupted with complaints towards Grant, and Graham simply responded: TMZ, "You know what? My mama told me to kill people with kindness, so there you go."
Barrymore also confessed it "took her a second" to get close to the acclaimed British actor, saying she understood how Graham felt interviewing him.
She said she was "probably like Ashley Graham on the carpet, like, 'Who am I dealing with?' And then I was like, 'Oh, no, I love you. I want to love you. You're not letting me love you.' As I got to know him, I was like, 'I do love you. I love you for the real you.' He is a hilarious, good human being." 
For a daily dose of 9Honey, subscribe to our newsletter here.